The AK-47 & Soviet Weapons
ASIN: B00B5LD2ZI
Collectors Guide, 2013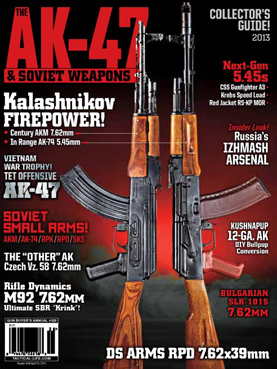 FROM THE EDITOR
The AK-47 & Soviet Weapons.
CENTURY'S GP WASR-10 by Michael O. Humphries
A direct descendant of the world's most prolific military small arm.
GUNSITE FOREIGN WEAPONS COURSE by Doug Larson
Going hands-on with select-fire Soviet weapons from around the world!
ROMANIAN RPK 7.62x39mm by Michael O. Humphries
Semi-auto custom build of a classic Cold War heavy-hitter!
I.O. ARCHER 5.56mm by Michael O. Humphries
First look at a semi-auto variant of the classic Polish Mod. 96 Beryl!
STEEL-CASED CARTRIDGES by David Bahde
Run your Kalashnikov with Hornady's affordable 7.62mm and 5.45mm loads.
CSS A3 GUNFIGHTER SERIES by Todd Burgreen
Born from real-world lessons—a new breed of AKs.
CHINESE TYPE 56 7.62x39mm by Michael O. Humphries
Rare variant of the classic Soviet SKS available once again on American shores!
RIFLE DYNAMICS M92 SIDE-FOLDER by David Bahde
Custom 7.62x39mm short-barrel rifle build on a Zastava Kalashnikov.
TET OFFENSIVE MEMENTO by Jeff W. Zimba
Viet Cong AK-47 captured at the embattled American Embassy!
BULGARIAN AK-74 5.45x39mm by Michael O. Humphries
Custom build breathes new life into a Cold War–era warrior!
WOLF PERFORMANCE ARMS VEPR 7.62x54R by Jorge Amselle
Historic cartridge and advanced sniper rifle go tactical.
CENTURY ARMS N-PAP M70 by Glenn Gilbert
All-new parts take the classic, rugged 7.62x39mm to the next level!
SPEED LOAD TACTICAL RIFLE by Todd Burgreen
Cutting-edge 5.45x39mm AK-74 designed for lightning fast reloads.
BELT-FED RPD 7.62x39mm by Leroy Thompson
DS Arms' semi-auto version of this classic Soviet light machine gun.
ARSENAL SLR-101S by Jeff W. Zimba
Forged-steel Bulgarian military Kalashnikovs hit American shores!
KUSHNAPUP 12 GAUGE by David Bahde
Transform your Saiga-12 into a tactical bullpup scattergun.
RED JACKET FIREARMS RS-KP MOR by Todd Burgreen
"Sons of Guns" 5.45x39mm that works dirty and still hits the mark!
7.62mm SAMOPAL VZOR 58 by Paul Scarlata
Cold War-era Czechoslovakia spawned this radical AK sibling!
DRAGUNOV SNIPER RIFLE by Leroy Thompson
From the Cold War to the War on Terror—the elusive fire-breathing 7.62x54R dragon.
CENTURY ARMS M70AB2 by Jorge Amselle
Yugoslav Kalashnikov with a compact folding stock.
MAKAROV PM 9x18mm by Leroy Thompson
Versatile Russian pistol that served Moscow beat cops and the Spetsnaz!
STAMPED OR MILLED by Jeff W. Zimba
Tips for identifying and choosing the right AK receiver for you.
IZHMASH FACTORY by Jorge Amselle
Russia's stalwart arms-maker, from Napoleon to present day!
(Visited 141 times, 1 visits today)