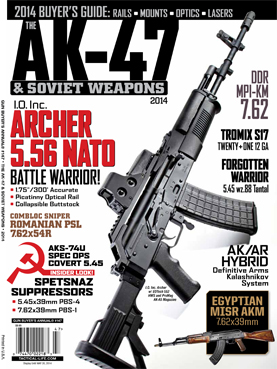 ARCHER 5.56mm by Michael O. Humphries
Based on the battle-proven Polish Beryl, this I.O. Inc. AK lands in America!
ARSENAL SAM7SF by Jeff W. Zimba
Craftsmanship and modern upgrades redefine the 7.62x39mm Kalashnikov!
EAST GERMAN MPI-KM by Michael O. Humphries
Classic Cold War-era 7.62x39mm Kalashnikov reborn and ready for service!
AKMS POLISH UNDERFOLDER by Jorge Amselle
Interarms' reborn version of this ultra-compact 7.62x39mm Cold War Classic!
TROMIX S17 by Jeff W. Zimba
Magazine-fed, 12 gauge AK-style is enough to satisfy a "shotshell" enthusiast.
EGYPTIAN MISR 7.62x39mm by Michael O. Humphries
Piece of History Firearms' custom build of this classic AKM variant!
SPECIALIZED WEAPONRY by Maxim Popenker
Rediscover the Red Army's truly unique combat diver's arsenal!
I.O. INC. HELLHOUND TACTICAL by Todd Burgreen
Tactical AK primed and ready to unleash 7.62x39mm fire and brimstone!
ESTONIA'S GALIL by Christian Shepherd
The Israeli-designed rifle on the frontline for this Baltic country.
BARLOW'S AKM-74SP by Denis Prisbrey
Custom build's enhanced ergonomics breathe new life into this Cold War-era warrior!
ATI YUGO UNDERFOLDER by Todd Burgreen
A compact 7.62x39mm AK for the ultimate in last-ditch, close-quarters defense!
TIER-ONE TUTORIAL by Jorge Amselle
Larry Vickers' AK Operators Class delivers Delta Force-born training and tactics!
DEFINITIVE ARMS KALASHNIKOV by Jorge Amselle
Advanced conversion system — 5.56mm AR technology with AK durability!
AKS-74U SPEC-OPS WARRIOR by Leroy Thompson
Spetsnaz-proven compact enforcer packing 5.45x39mm firepower!
CENTURION 39 SPORTER RIFLE by Todd Burgreen
U.S.-made 7.62x39mm from Century Arms offers a modern take on a classic design!
HOLLYWOOD'S AKs by John Fasano
Movies to television, the Kalashnikov has been a high-profile presence in entertainment.
SPETSNAZ COVERT WEAPONS by Maxim Popenker
Russian Spec-Ops and their unique "devices for noiseless firing."
YUGO M.59 SERIES by Paul Scarlata
Predecessor to the AK-47, these 7.62x39mm carbines hold their own on the battlefield!
KREBS AK-103K by Jorge Amselle
An American-perfected 7.62x39mm Russian AK with outstanding accuracy!
ROMANIAN PSL-54C 7.62x54R by Michael O. Humphries
ComBloc sniper rifle offers Kalashnikov reliability with precision, power, and range!
POLAND'S P-65 PISTOL by Leroy Thompson
Poland's concealable Cold War 9x18mm sidearm for close-range defense!
74U LLC RECEIVERS by Michael O. Humphries
Delivering custom U.S.-made receivers for your specialized AK build!
(Visited 88 times, 1 visits today)