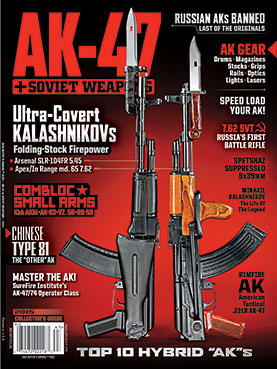 COVERT FIREPOWER  by Maxim Popenker
Suppressed 9x39mm tactical rifles of Russia's elite Spetsnaz forces.
AMERICAN TACTICAL GSG AK-47  by Todd Burgreen
Worthy rendition of its infamous big brother in a cost-effective .22 rimfire package!
CZECHPOINT VZ. 58 TACTICAL 556  by Paul Scarlata 
Czech-born 5.56mm warrior blends classic lines with modern upgrades!
CUSTOM YUGO M92  by David Bahde
Short-barreled 7.62x39mm build delivers classic AK lines and outstanding reliability.
BIRTH OF THE AK  by Maxim Popenker
The Kalashnikov rifle's path from concept to worldwide military icon.
POLISH AKM 7.62x39MM  by Michael O. Humphries
Atlantic Firearms' classically styled Kalashnikov!
ARAK AK-74 5.45MM  by David Bahde
This Bulgarian-sourced rifle offers time-tested design and amazing performance!
M+M INDUSTRIES M10-762  by Jorge Amselle
A rugged, Romanian-based AK that delivers 7.62x39mm performance!
SECOND-GENERATION AK  by Frank Iannamico
The evolution and history of the Kalashnikov milled receiver.
MASTER YOUR AK  by David Bahde
SureFire Institute brings modern-day training to the timeless Kalashnikov design.
INTERARMS HUNGARIAN AKM  by Denis Prisbrey
Cold War-era 7.62x39mm brings the classic AK-63 design to our shores!
THE CHINESE TYPE 81  by Maxim Popenker
China's 7.62x39mm answer to the Soviet AKM series of weapon systems!
SOVIET SPEC-OPS PISTOLS  by Maxim Popenker 
Suppressed covert pistols built to give the Red Army the edge in the Cold War!
10 HYBRID WARRIORS  by Robert A. Sadowski
Weapon systems that combine the best of the East and West into one package!
KREBS 7.62 SPEEDLOAD 2  by Dr. Martin D. Topper
Revolutionary Russian-based AK optimized for lightning-fast reloads!
HELMETS OF THE DDR  by Peter Suciu
Warsaw Pact relics designed for the evolving East German military after WWII.
TOKAREV SVT-40  by W. Darrin Weaver
Soviet 7.62x54R built to bring heavy-duty firepower to the battlefields of World War II!
CATAMOUNT FURY II  by David Bahde
AK-pattern shotgun from Century Arms delivers potent 12-gauge firepower on target!
RK-59 PISTOL  by Leroy Thompson
The Hungarian secret police's pocket-sized 9x18mm!
THE AK ARCHITECT  by Maxim Popenker
Considering the life and works of Mikhail Kalashnikov.
(Visited 80 times, 1 visits today)